2017 PARADE OF HOMES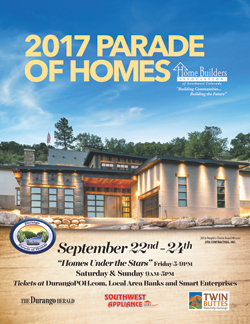 Welcome! The best journey takes you home, and we are excited to present you with an incredible journey during the 2017 Parade of Homes. Your ticket opens the door where you will meet the builders and craftsmen of some of the finest residences from Durango to Pagosa Springs. Enjoy your tour and the beautiful autumn landscape on your scenic drive, and thank you for taking part in this 14th annual Home Builders Association of SW Colorado Parade of Homes!
View the 2017 Parade
of Homes Magazine Here


PARADE TICKETS: $20.00 PER PERSON
Cash or Check purchases: Beginning September 5th, tickets will be available at any HBASC Member Bank in Durango, Bayfield, or Pagosa Springs and at Smart Enterprises in Durango. Contact Amy or Katie at the HBASC at 970-382-0082. (Office will be closed Friday, September 22nd, through Monday, September 24th)

Tickets can also be purchased during the Parade at any of the 14 Stops.

Credit Card purchases: - Online Purchase only

Pop-up blockers MUST be disabled for this page before clicking to purchase ticket(s).

An Email address is required to use this online ticketing system. You will receive a 2017 Parade of Homes Ticket Confirmation email. Please present that email at your first Parade Stop to exchange for your ticket purchase(s). All tickets will be issued for the purchase. Due to record keeping constraints, we cannot hold tickets for later attendees.